5 Tips to Planning Your Destination Wedding Weekend Activities
---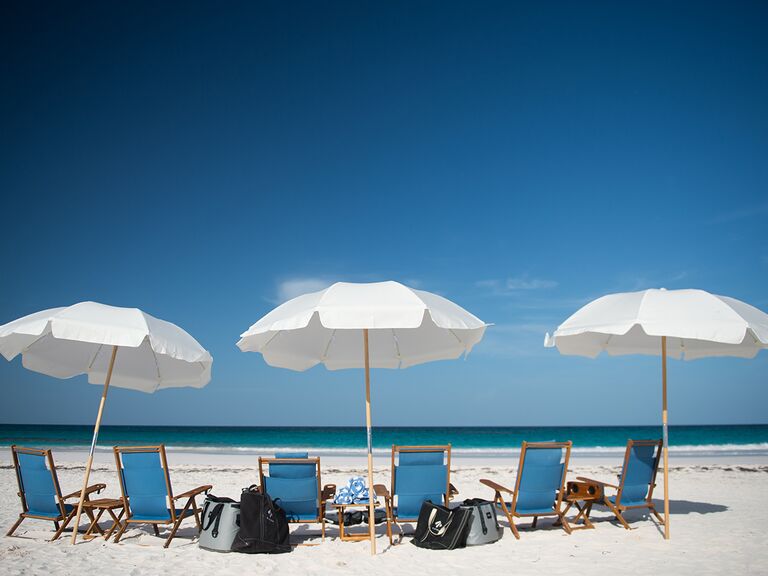 BAHAMA HOUSE/ELEVEN EXPERIENCE
Destination wedding weekends aren't just about the wedding day itself. Part of the reason you've selected to plan your wedding away from where you live is to experience a special spot with the ones you love most. So, maximize your time on location and plan a weekend that's worthy of more than a few photo ops—here's how.
Consider the Local Culture
If you're trying to merge your families in a fun way, consider a group cooking class. You'll get to taste the flavors of the region together and bond in the kitchen. Kick this experience up a notch and get out and see the culture around you too. The Renaissance Tuscany Il Ciocco Resort & Spa offers a cooking class with Chef Alessandro Manfredini that includes a visit to the local village to shop for the fresh vegetables, meats and cheeses your meal will be prepared with. Or plan a day at a local winery to learn about other regional offerings. The Renaissance Tuscany takes you to the local biodynamic winery Podere Còncori, where you'll enjoy lunch with the proprietors and a tour through the vines.
Give Your Guests Options for Additional Excursions
We get it—hosting a wedding is expensive and planning additional activities for your guests can be even more expensive. But whether or not you host a group outing leading up to or after your wedding day, give your guests options to experience the area on their own. Perhaps you and your partner want to spend an afternoon swimming with the pigs in the Bahamas when saying I do at Bahama House on Harbour Island. It may not be in the budget for you to host everyone in a fleet of boats, but you can include the information on your wedding website and in your welcome letter, giving your guests the option to join at their expense, should they touch down in time and have the interest. Meanwhile, plan a free outing too (like shopping in town or beachside service on the pink sand beaches) and allow your group to naturally disperse. Just be sure to share the information with all invited so they can take full advantage of their favorite activities. Those smaller, more intimate groups will get the exact experience they want, and you won't break the bank. Of course, budget permitting, picking up the tab is always thoughtful too.
Plan a Welcome Event
A destination wedding can feel like a family reunion with guests that are new to the family too. Make everyone feel welcome and connect new and old friends from the minute the weekend kicks off by hosting a welcome event for all to attend. This can be casual in nature (think beachside barbecue or afternoon in the sun) or a more formal welcome dinner (that can double as a rehearsal dinner if need be). You can even turn an excursion into a welcome event, like sunset cocktails on a cruise off the coast of Honolulu with The Ritz-Carlton Residences, Waikiki Beach. It doesn't matter how you start your celebration as long as you do it together.
Work with an Expert
Whether you're working with a travel agent, destination management company, adventure or tour company or simply your hotel concierge, plan ahead and work with an expert to find out about the best experiences the destination has to offer (at the best group rates). You may even find resources on the local tourism board website to assist. Headed to Ireland to wed in a castle? The team at Kilkea Castle will book a local falconry expert to come on property and entertain your group with his majestic birds. Or Scott Dunn will plan an immersive schedule around the country to suit your fancy from exploring the ring of Connemara with a private guide to visiting a medieval settlement on the Aran Islands. We may be in the age of digital wedding planning but working with a pro to ensure a flawless travel experience is worth a phone call or two.
Account for the Kids
Even if your wedding isn't kid-friendly, keep in mind that families may have opted to turn your destination wedding weekend into an extended family vacation. Consider booking adventures the kids can partake in too, like horseback riding through the red sand on the island of Lanai at the Four Seasons Resort Lanai. If you're saying "I do" on this Hawaiian Island, don't forget to stop and pet the miniature ponies too. And if you prefer an adults-only adventure, offer up information for the hotel's kids club (if they have one) or local nanny service to leave the kids behind while the parents play.
Regardless of what activities you plan or don't plan on hosting, sharing local cultural information, contacts to book individual excursions and even your favorite restaurant and shopping recommendations will help show your loved ones all the reasons you selected this special destination wedding location in the first place.
Harmony Walton is the founder of The Bridal Bar, host of Bridal Bar Radio airing on iHeartRadio and editor of the destination wedding blog, Jet Fete by Bridal Bar. With a vast celebrity clientele and over a dozen years of experience, her brands have been recognized around the world and featured in media outlets such as The Associated Press, The New Yorker, The Knot, The New York Times, Entertainment Tonight, People Magazine, The Los Angeles Times and many more.
---