Weddings
Wow! I've dreamt of my wedding growing up, and our wedding day at Kilkea castle FAR exceeded my dreams. The grounds are so picturesque, and well maintained. The food was the most delicious food I've had in a while that our guests still talk about it and say they wish we were closer to continue to enjoy. As beautiful as the grounds were and as incredible as the food was. The star of Kilkea is the staff. The take the castle thing seriously and we were treated like royalty. From the guest attendants at check in, the servers, the bar staff and lady but not least the pleasure of getting to work with Elaine and Michaela. The planning process was smooth (even after postponing twice because of COVID) if you are thinking of Kilkea as your venue don't think any further and reserve your day. It will be the most incredible day ever.
Amanda
Kilkea Castle for our wedding in December was the perfect venue choice. Weather on the day was icy and frosty but the team took this in their stride and we're extremely accommodating in terms of where to get amazing photos and how to accommodate our guests. The team were extremely professional and our wedding was absolutely perfect!! The food was amazing and all the guests were talking about how exceptional it was. The castle and the baronial hall are so well decorated and were so exquisitely setup by the team. In the run up and on the day Elaine, Michaela and all the team are very helpful and responsive to all requests. On the day David the food manager was a star too. We would highly highly recommend Kilkea Castle to anyone looking at castle wedding venues. The whole team really went above and beyond from start to finish and we are so grateful for all they did to help create our dream wedding!!!

Ellen and Ciaran
Kilkea Castle was all I could of dreamt of as a wedding location for us. All the staff and especially Michaela and Elaine were more than accommodating to all our needs and wants for our wedding. Nothing was ever a problem and everything was perfection for the day. We wish we could do it all again there. The venue was amazing we were so happy we choose Kilkea Castle as our wedding location.
Hannah
From arrival we fell in love with Kilkea, it only got better and better as we worked with Michaela to plan our day. We were listened to, nothing was ever a hassle and every idea was possible! Every person we dealt with was so personable and welcoming, which made the venue even more idyllic. Our dream day was even better than imagined, we've had non stop compliments about the wedding and venue since. We can't rate Kilkea high enough, it was perfect and we can't wait to go back to stay!

Jane
Amazing location and people to host a wedding. We planned everything from a distance and didn't see the venue until the day before the wedding and man we weren't disappointed. Everything was planned to perfection. The first was first rate venue amazing. Service was great everyone was so attentive. Elaine handled everything for us answered all our questions and more. Set up and arranged everything. Can't say enough about Kilkea castle

Joanne
We recently got married at Kilkea Castle, and we loved every second of the weekend! Elaine, Michaela and all of the staff at Kilkea were phenomenal to deal with, they made us feel so special on the day and all of our guests were blown away by the service and the venue itself. They were responsive and supportive especially in the last few weeks before the wedding and made sure everything ran smoothly and on time without letting things feel rushed. We had a few special requests and they managed them and advised on different options to make sure we got the most out of the day. Our favourite moment that they created for us was some time alone to enjoy the canapés before the dinner, this was a really special time where it started to sink in that we were newlyweds! I would recommend Kilkea without hesitation to any newly engaged couple looking for an exquisite venue with top class service!
Laura

We had the best experience with all the Team at Kilkea Castle. Having previously worked in events, it would take a lot for me to hand over the reigns on my wedding but Elaine & Michaela were the dream wedding team! An absolute pleasure to deal with for almost 2 years, nothing was an issue, they were as cool as a breeze and are simply professionals at what they do. All of the staff in Kilkea were so lovely throughout our visits in advance of the wedding and our 4 days on site for the wedding week. We felt like we were at home and they made us and our guests feel like we were the only wedding there ever. I can't recommend them enough as a wedding venue, top class service! We can't wait to go back to visit!

Lisa & Mark
Kilkea Castle is the perfect castle wedding venue! We loved every minute of planning with the amazing team (Elaine and Michaela mainly)! We loved arriving down and spending any time we could there! On the day we had no worries and everything ran as smooth as ever! We will be forever grateful for such an incredible day!

Louise and Shane
Elaine & Michaela and all the wedding team and staff at Kilkea Castle have the utmost professionalism and warmth. From the moment we booked and decided on Kilkea castle, right through the process they made our wedding journey a joy. The castle, facilities, rooms and whole build up was made so much easier knowing the teams quality and standards. We were married on 29th December 2022 in Kilkea Castle. It was an amazing day and we and our guests are still reeling from it. In summary, fantastic staff, lovely venue, amazing food and drinks. Hard to beat in our opinion. Elaine, Michaela and all the staff were excellent.
Ryan & Emma
We loved everything about our wedding experience from the rehearsal dinner the night before to the breakfast the morning after. So many of our guests complimented the venue and especially the food. Elaine and Michaela were lovely to deal with. We would definitely recommend Kilkea Castle for anyone looking for a wedding venue.
Sarah & Greg
I cannot emphasize how great Kilkea castle was for our perfect winter wedding. All of the staff were fantastic but in particular our two wedding coordinators Elaine and Michaela went above and beyond and their professionalism was second to none. Everything on the day went so smoothly and they took care of so many little details in the background, making the whole process as stress free as possible. I genuinely cannot thank them enough and I would recommend the beautiful Kilkea castle to any bride and groom to be.

Toni
❮
❯
Experience your very own Fairytale Castle Wedding at Kilkea Castle
Together we can create the wedding of your dreams on this wonderful 180-acre estate. Built in 1180, our magical Castle and its history will combine to create the future of your dreams. With over 800 years of hosting Weddings and Celebrations behind us, Kilkea Castle is ready to open its doors and let new light in through our noble windows.
Our magical Castle has an exceptionally wide choice of wedding venues to choose from, and our wedding planner can help you select the right setting and atmosphere for your bespoke wedding.
Wedding packages at Kilkea Castle start at €125 per person. Click here for our wedding brochure.

Castle Wedding
For a more intimate wedding, couples choose Restaurant 1180 which can accommodate up to 60 guests.
This private dining room overlooks the castle gardens and has exquisite natural light. There are several spaces within the castle guests can enjoy.
The first floor boasts a roaring fireplace and lounge plus a cozy bar with an outdoor patio. The Drawing Room on the second floor is a perfect location for tea and desserts for the special event.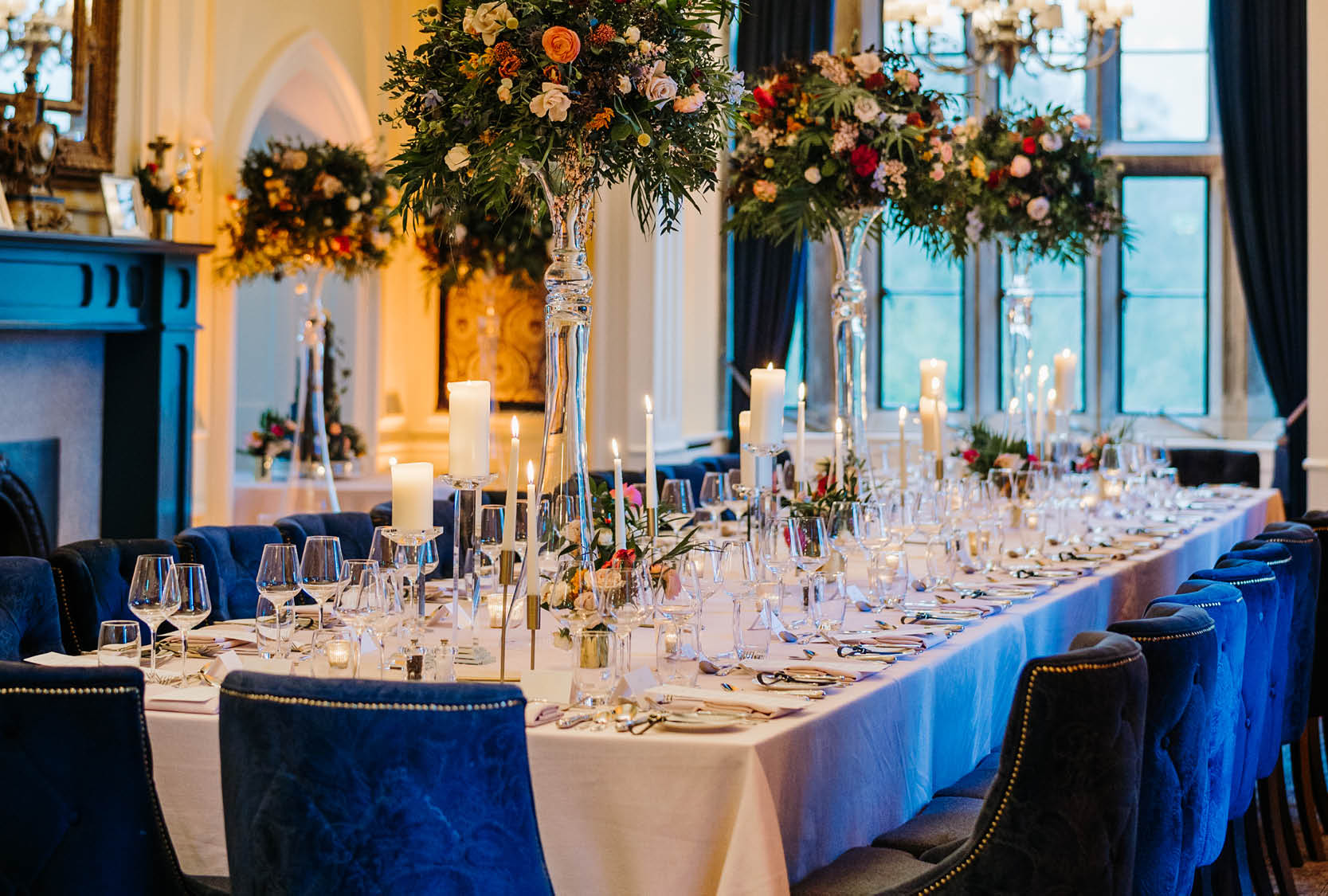 The Impressive Baronial Hall Wedding
Baronial Hall sits majestically under the 12th century Castle and overlooks the lush gardens and amazing golf course. Enjoy reception drinks on the terrace of the Castle and then invite your guests to join you and your partner as you take the breathtaking walk from Kilkea Castle across the tree-lined avenue to begin your celebrations. Ideal for wedding parties of up to 270 guests.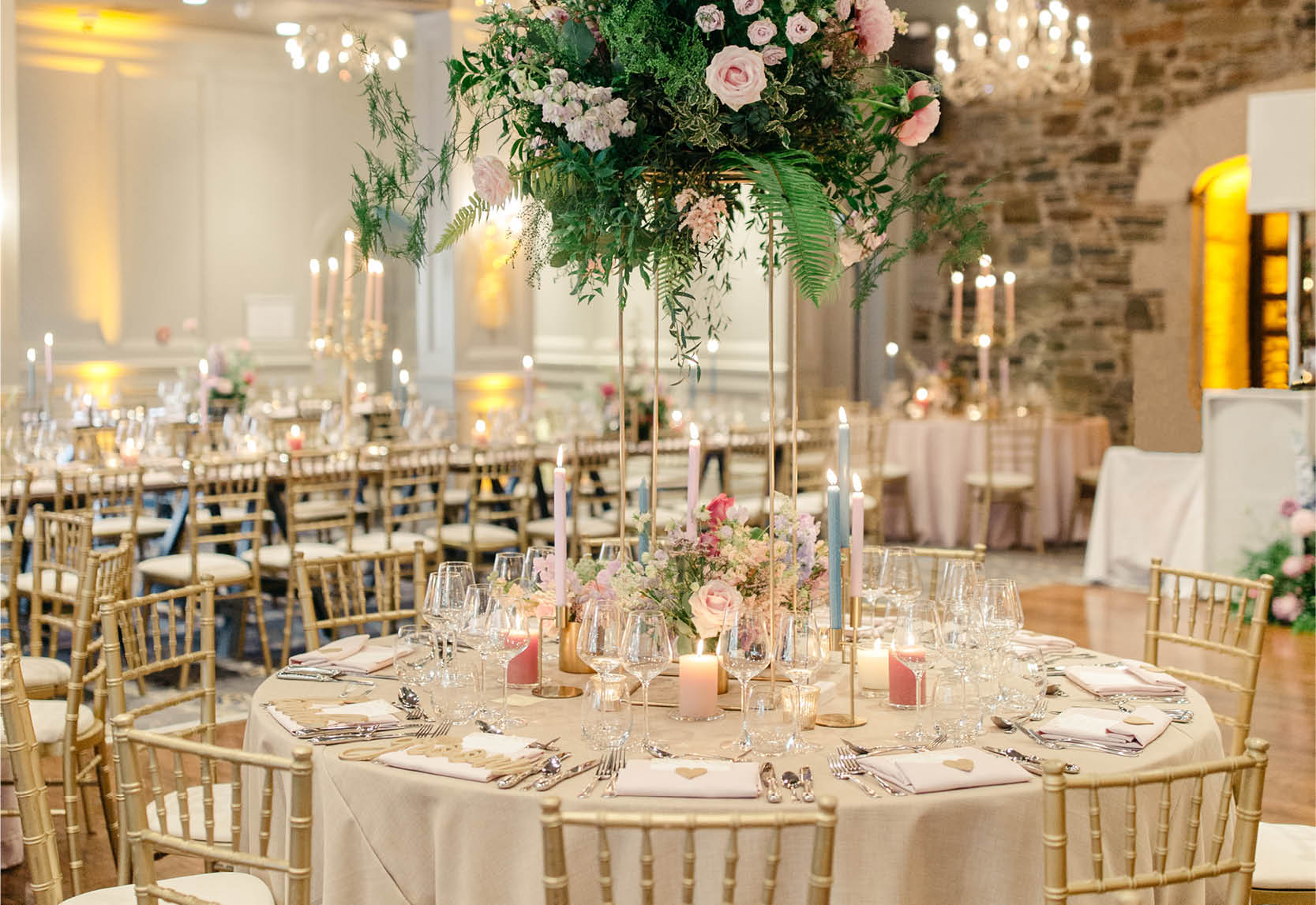 Hermione's Restaurant Wedding
Hermione's Restaurant is an experience like no other on the estate. With light charging through the venue, it looks over the golf course's 9th hole, the parkland course, and beyond the 12th-century Castle. The Restaurant has space to cater to 120 guests for pre or post-wedding events.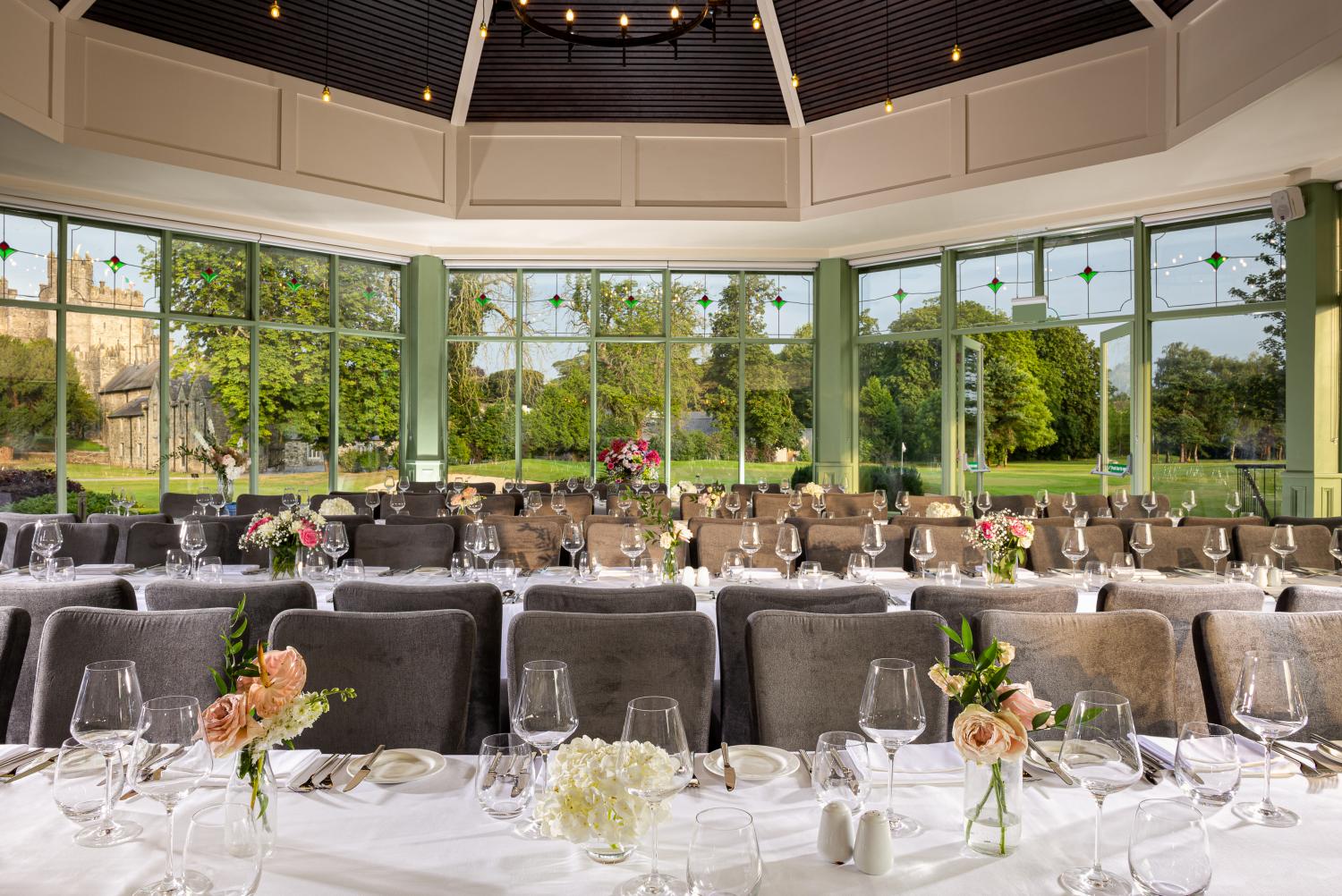 Food & Wine
The Banquet is never more important than when you are dining in a Castle. Our Chefs are passionate about quality, freshness, and mouth-watering presentation.
If you have any special requirements such as vegetarians, we will happily discuss a variety of options with you.
Real Weddings
Explore some of the real weddings that have taken place at Kilkea Castle since our reopening.
Allow yourself to get inspired and imagine your dream wedding.
View our galleries here.
CASTLE & CARRIAGE BEDROOMS
Book Your Stay
Why Book With Us?
Book Your Stay
Why Book With Us?
Castle & Carriage
Bedrooms
Insert your Wedding Promo Code to avail of the Wedding Rate
Lodge
Bedrooms
Insert your Wedding Promo Code to avail of the Wedding Rate