Losing the Race, but Winning Each Other
---
Bimal Patel was seeking a congressional seat in Texas when he and Truett Manning matched on a dating app. By the time his campaign ended, the two were well on their way to a life together.
Though Truett Clay Manning matched with Bimal Jayprakash Patel on the dating app Bumble, Mr. Manning did not lift a finger to do so. His friend Marette Gillen was the one who swiped right on Mr. Patel's profile, on Mr. Manning's behalf, in November 2018.

Despite their presences on the app, neither man was that invested in online dating.
Mr. Manning had only downloaded Bumble at the urging of Ms. Gillen, who would sift through its many profiles for him. Mr. Patel, then running to represent Texas's 18th Congressional District as a Democrat, had nearly deleted the app because he had reservations about being on it while campaigning.
But once they matched, the two began chatting and soon decided to meet for a first date. That December, they got together at True Food Kitchen, a restaurant in Houston, their shared hometown. It went so well that they quickly scheduled a second date, which began with dinner at The Grove followed by ice skating at Houston's Discovery Green park and then dessert at Grotto Downtown.
Mr. Manning said he realized that he had found someone special after watching Mr. Patel dunk a piece of the cheesecake they were sharing into his coffee on their second date.
"He was so comfortable, it was like he was saying, 'If you have a problem with it, that's on you,'" Mr. Manning said.
Mr. Patel appreciated that Mr. Manning was similarly self-assured. "One thing that drew me in about Truett was his authenticity and sincerity," he said.

From then, both say it didn't take long for their relationship to turn serious. For the next year and a half, there was a lot of driving back and forth, as they lived about 30 minutes away from each other in different parts of Houston. Mr. Manning eventually volunteered for Mr. Patel's campaign, knocking on doors before Mr. Patel's congressional bid ended when he lost the primary election in March 2020.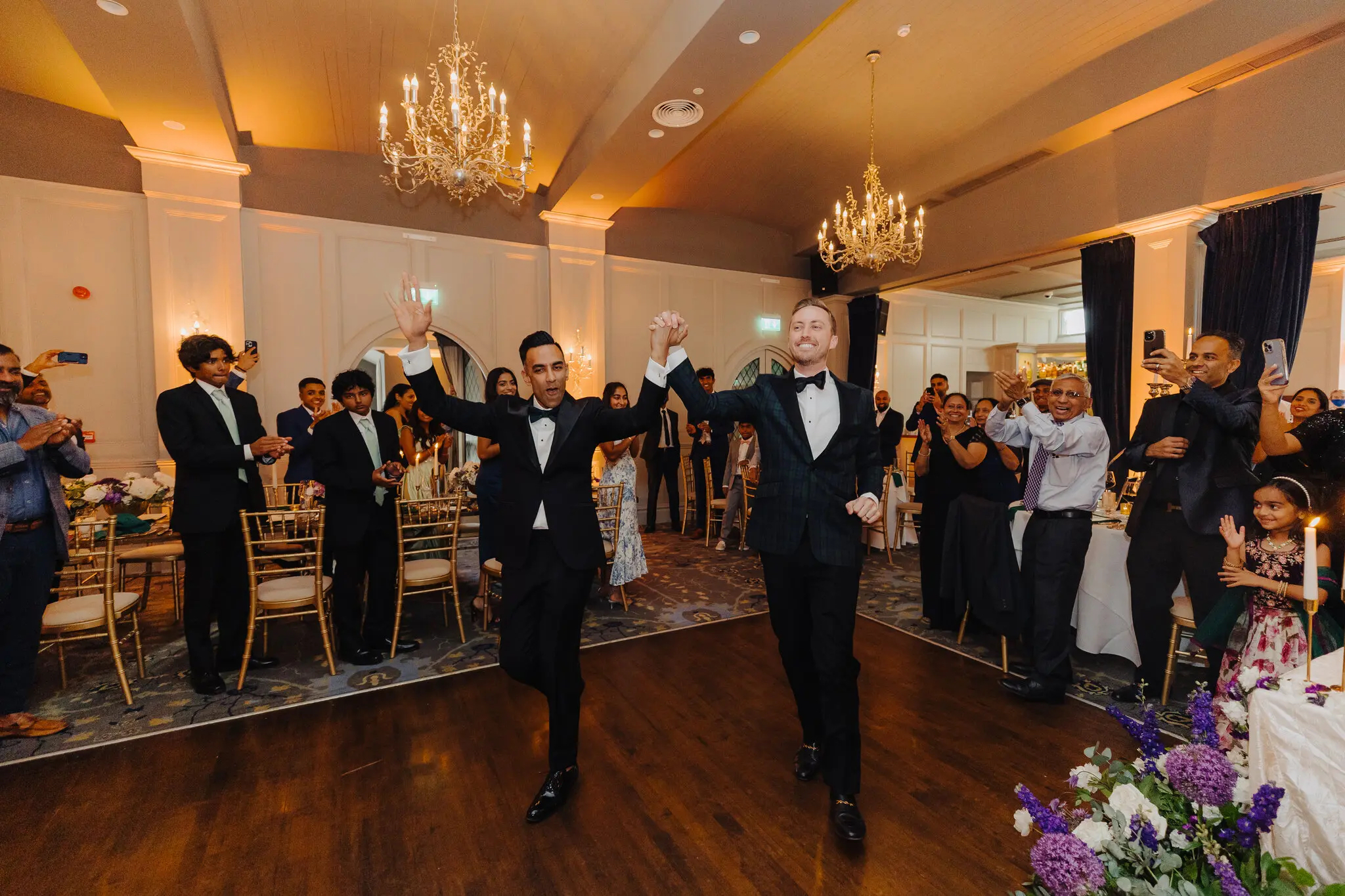 A graduate of the University of Texas at Austin, Mr. Patel, 37, received a doctor of optometry degree magna cum laude from the University of Houston College of Optometry. He is the owner of Focus Refined Eye Care, in Houston, where he works as an optometrist. Mr. Manning, 33, graduated from the University of Houston-Clear Lake and is a territory manager for Crown Aesthetics, which sells microneedling devices.
By the end of 2019, the two had started to discuss living together. The following year, about a month after the pandemic set in, Mr. Manning moved into Mr. Patel's townhome in April 2020. He was still settling in when they discovered a leak from the roof deck into the master bedroom. Fixing it took six months.
"A lot tested us that year," Mr. Patel said. "But seeing how we got through those six months made me think that when the work was done, I would propose." He did so on Dec. 4, 2020, the couple's two-year dating anniversary.
As they discussed planning a wedding, Mr. Patel, who is Indian, favored the style of large, action-packed affair that is common in his culture. Fans of the Netflix series "The Crown," both said their ideal venue was a castle.
Working with Waterlily Weddings, a planner in Dublin, Mr. Patel and Mr. Manning, who is of Irish descent, found their dream location: Kilkea Castle, one of Ireland's oldest castles, in the village of Castledermot. Now a hotel and golf resort, the property dates back to 1180.
On July 4, they were wed at the castle before 100 guests, most of whom were vaccinated. Romy McAuley, a registered solemnizer with Ireland's Health Service Executive agency, officiated and Ms. Gillen, Mr. Manning's friend who initiated his Bumble match with Mr. Patel, served as Mr. Manning's maid of honor.
Before the ceremony were performances by two Indian folk dance groups, which were set to Irish music as well as bhangra. Both grooms rode in on horses; Mr. Manning wore a plaid tuxedo jacket, and Mr. Patel an emerald green sherwani. As part of the ceremony, they exchanged flower garlands and performed a Celtic handfasting ritual, during which their hands were bound together with ribbon.
At a reception that followed, Mr. Patel, who had changed into a tuxedo, surprised Mr. Manning by singing a portion of "Latch," the song they had walked down the aisle to, with Mr. Manning's father on guitar.
"Today is a day I never dreamed I would experience," Mr. Manning said in his vows. "Growing up, I figured the fairy tale life was not in the cards for me. Today is the fairy tale we deserve."
By Alix Wall - July 15, 2022, 12:00 a.m. ET
---