Jane Seymour and US Ambassador Among the Guests at YouthInk in Kilkea Castle
---
None other than Jane Seymour was in Kilkea Castle recently, attending the fourth instalment of the YouthINK creative arts programme for young people.
The English actress played Bond girl Solitaire in 1973's Live and Let Die and won a Golden Globe for Dr Quinn, Medicine Woman. YouthINK Creative Art Director Dr Mary O'Connor explained that Ms Seymour is working at the moment on Harry Wild, a Dublin-set mystery series. So too is Alan Devine, an Irish actor and one of YouthINK's past facilitators, who told the actress about the programme.
"She's passionately interested in art herself, she is an artist, so she just wanted to see what the young people were doing," Dr O'Connor explained, adding that the kids were delighted to meet her. "She was so gracious and so generous with her time."
YouthINK was founded by Christy Cashman, a writer, producer and actress – she and her husband Jay own Kilkea Castle where the family spends much of their time. The not-for-profit's goal is to support young people in realising their creative potential, including those with significant personal and social challenges.
From Friday 18 to Sunday 20 November, a group of around 37 young people aged between 13 and 18, from all over the county, descended on the south Kildare venue for a series of immersive educational and interactive workshops with professionals working in the creative arts industry.
Over the three days, the teens were introduced to and learned about the art of creative writing, scriptwriting, production design, lighting, animation, music, camera work, editing and much more.
Ms Cashman invited friends from America to take part, including Sally Taylor (the daughter of James Taylor and Carly Simon) and Kate, Georgia and Charlotte Connick who, with the help of the teens, shot the official ad campaign for the Kate Connick Kilkea Capsule Collection over the weekend. Kate (a designer, actress and model), Georgia (a photographer and videographer) and Charlotte (a make-up artist entrepreneur) are the daughters of Harry Connick Jr and former Victoria Secret model Jill Goodacre.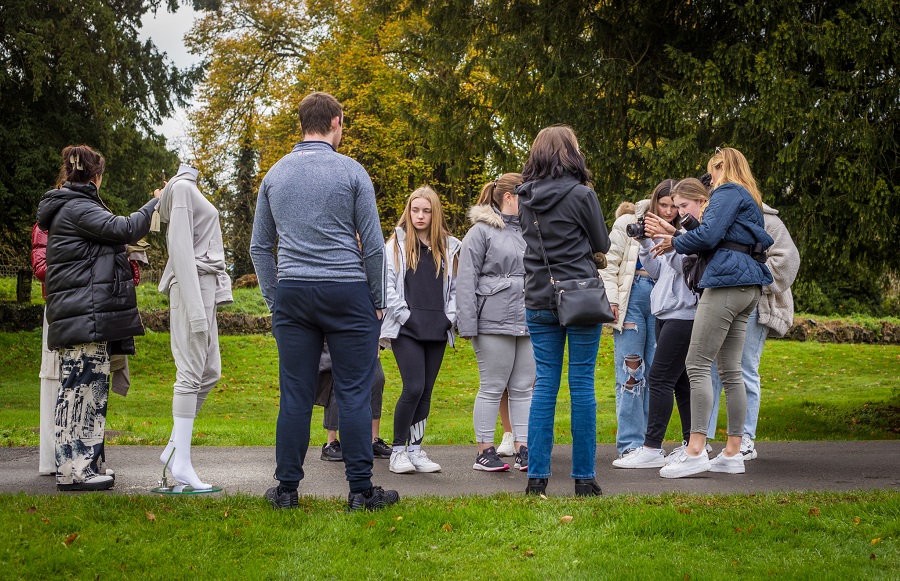 Kate (far left), Georgia (far right) and Charlotte (far left) Connick working on the fashion shoot with the youths. Photo: John Houlihan (GONZ photography)

Ms Cashman also asked US Ambassador Claire D. Cronin to be involved and enlisted industry leaders in Ireland, including Kieran Crowley, Bridget Ní Dhuinn, animator Iobhar Stokes Rodriguez, Lisa Nagle (a musical director from Newbridge), and well-known photographers Barialai Khoshhal and Gonz, who all acted as mentors.
The weekend culminated on Sunday with the launch of the YouthINK – Young Artist Gallery to cater for young and early career artists under 30. Celebrating the success of YouthINK and the opening of a new art installation space within Kilkea Castle, the event featured special guest performances including YouthINK participants and the Newbridge Gospel Choir.
The gallery space at Kilkea Castle will offer young artists between the ages of 13 and 30 the opportunity to display their creative works in public and to provide access to a wider audience for their art. The gallery will rotate installations throughout the year and afford multiple artists the opportunity to display their work in this spectacular venue.
Dr O'Connor noted that Ambassador Cronin opened the gallery space, adding that she is "very supportive of the whole programme."
She said of the space: "It's a springboard really and a showcase, because so many people come through the castle."
Dr O'Connor is an advocate for youths from Kildare town, has been a Board member of The Hive Kildare Town Youth Hub since 2015, and has been actively involved in the development of the YouthINK creative arts programme since its inception.
An ecologist by profession, she is also committed to fostering an awareness and appreciation of nature in young people and is dedicated to helping young people reach their potential and strongly believes in the unique creative talent of every young person.
She shares the title of Creative Art Director with Kildare native Pádraig J Dunne, one of the creative forces behind YouthINK since its inception. He comes from a background in creative arts and clinical mental health and specialises in dramatherapy clinical practice, performance, directing, writing and production design.
Dr O'Connor, who told me it was an "excellent" weekend, noted that they're "very lucky" to be supported by Christy and Jay Cashman, adding that Christy is "passionately interested in developing arts among young people and giving opportunities."
The project aims to expand and grow to reach many young people in the future. Dr O'Connor explained that they're "talking about some kids from Boston coming over in February and maybe developing towards an exchange."
Watch this space!
---