Discovering My Roots in Ireland: Jay Cashman
---
When I was young, my Great-Aunt Cabby was the historian of the family. She was chatty, and I liked to listen to her tell me about one of our relatives, James Cashman, who emigrated to Boston from Ireland in the 1850s. That's when I first became interested in my genealogy. Although I had done a lot of traveling, including to Italy, where my mother's side of the family came from, I had never been to Ireland, where my father was born. So I went there in 1996 for the first time on a vacation with my soon-to-be-wife, Christy, an equestrian fanatic.
We traveled mostly around the west coast—Killarney, County Clare, and Galway—and eventually settled in Adare at the Dunraven Arms Hotel. Christy was always riding, and I often had nothing to do during the day, so I decided to take a drive to County Cork to check out where my family came from.
While in Cork, I couldn't find much information about my relatives, but I did hear about a really cool hotel across the street from where we were staying called Adare Manor, and decided to switch hotels. After checking in, I met with the general manager and mentioned my interest in my family's heritage. I was thrilled when he said he could introduce me to a local genealogist.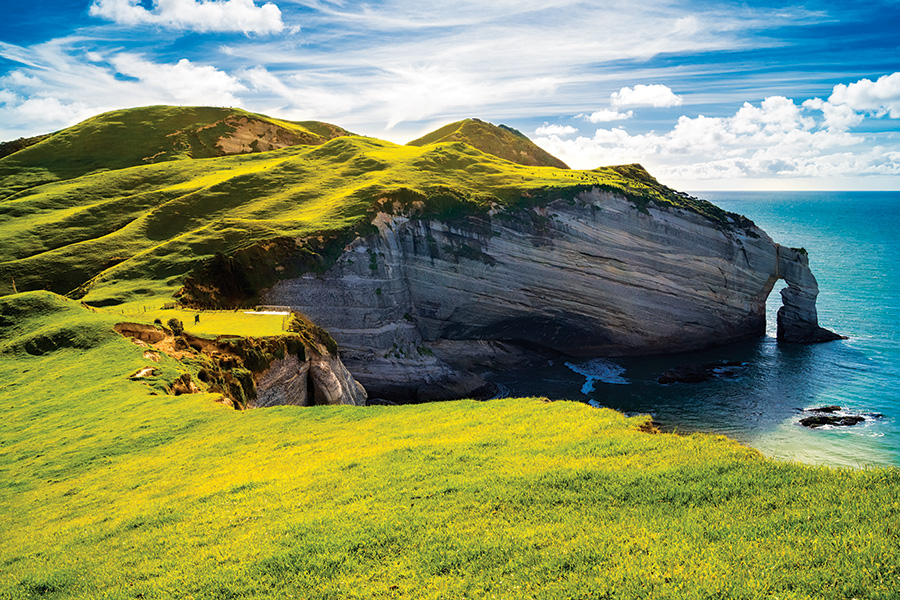 A postcard-perfect vista on the Emerald Isle. / Photo by Sina Ettmer/EyeEm/Getty Images
When we connected, my first question was whether she could help me learn more about my relative James Cashman. After consulting with the Cobh Heritage Centre in Cork, she confirmed that James had lived in the town of Lisladeen and sailed to Boston from Liverpool on the Adonis in 1850. Suddenly, the Irishman inside of me sprang to life.
Looking back, I suppose it was the combination of learning more about my heritage; driving past all these castles, manor houses, and ruins; and feeling so at home in Ireland that ultimately made me decide that I wanted to buy a castle. First, of course, I had to find the right one. I visited Kinnitty Castle in the town of Kinnitty, but it wasn't "castle-y" enough for me. Fast-forward to 2011, and I found out that Kilkea Castle, about an hour south of Dublin, had become available. So we made an offer and they decided to take this Yank's money and off we went. After five years of renovations, we finally opened to the public as a full-service hotel in November 2017.
Upon returning to Boston after that first trip in 1996, I decided I wanted to learn even more about my family. For the past 20 years, around 50 percent of the time I've had a genealogist researching Cashman history. We have a website with about 7,000 documents on it and I've found 500 to 600 members of the family. Last summer I sent an email inviting everyone to the castle for a Cashman reunion. I told them, "You get yourself to Ireland and it will be on me." I thought we'd get 20 or 30 people, but we had to top it off at 100!" —As told to Victoria Abbott Riccardi
---