How to Experience the Luck of the Irish in Dublin
---
The Irish are lucky for many reasons, though the Republic of Ireland's lively and enchanting capital city is undoubtedly a prime example of their good fortune. One visit to Dublin will assure you that this city is the proverbial pot of gold at the end of your travels — across Europe and beyond. We've already covered Eastern Europe's best-kept secret, so now we're heading across the continent to the island of pints and castles, 12th-century pubs, and 18th-century gaols.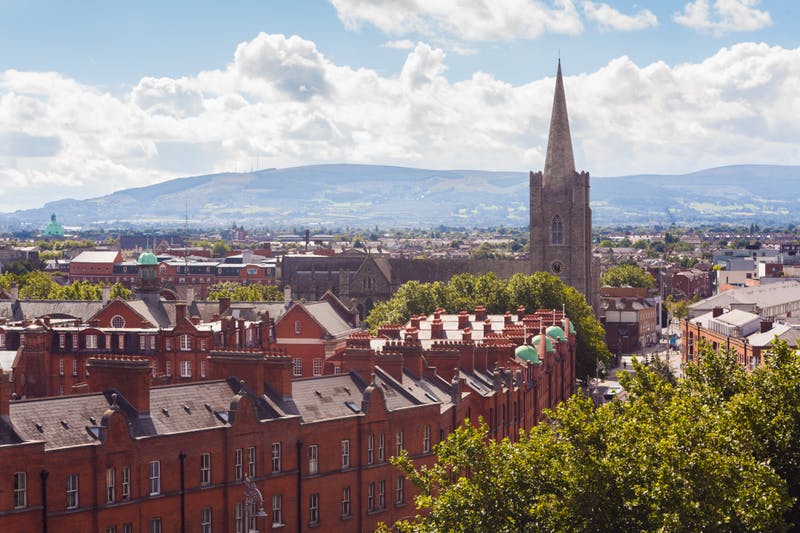 The cobblestone streets of this European capital echo with hundreds of years of storytellers: Read the country's poetry and prose before your trip to fully appreciate Dublin's culture and history. We recommend Dubliners by James Joyce (a classic you may have read in school) or The Last September by Elizabeth Bowen (her stifled female protagonists are as relevant today as they were in the 1920s). But first, read on for your guide to Dublin and plan your next trip to the Emerald Isle to discover what prompted Joyce to declare, "When I die Dublin will be written in my heart."
WHERE TO STAY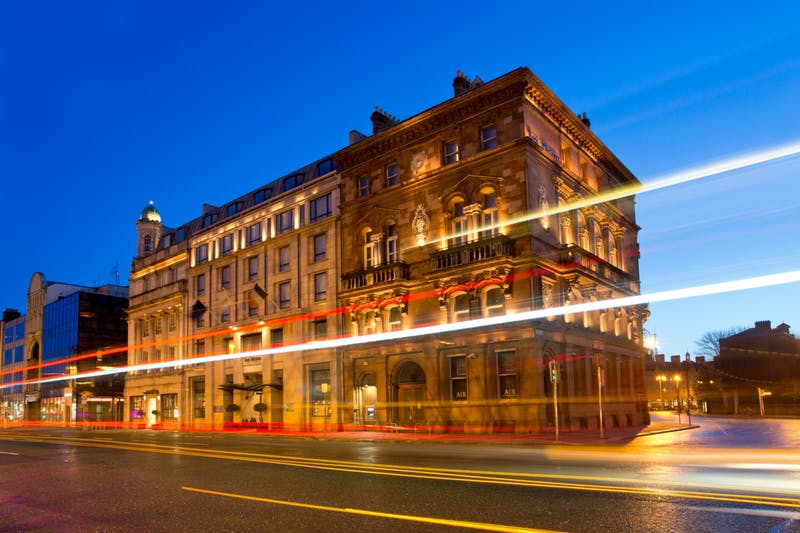 Whether you want to stay in a castle or a hostel, there are infinite places to stay in Dublin. We're partial to Buswells Hotel, situated right in the heart of Dublin, and The Shelbourne Dublin, a high-end hotel on St. Stephen's Green that features the newly opened 1824 Bar. Not only does this cocktail bar boast an extensive Champagne and whiskey menu, but it also has bookshelves lined with works and quotes from Irish literary heroes such as Samuel Beckett and Oscar Wilde.
If you're interested in nightlife, consider the Temple Bar Hotel (situated in the eponymous neighborhood famous for its pubs and bars) or the Fitzsimons Hotel (which has its own rooftop garden and nightclub). The Westin Dublin (pictured above), located at College Green, is another reliable option. Travelers looking to save money on housing should consult HostelWorld for locations in Dublin and compare options with homes listed on Airbnb.
For more regal accommodations, look into the Fitzpatrick Castle Hotel, located in the Dublin suburb of Killiney, or Kilkea Castle, an hour southwest of the city in County Kildare. Built in the late 12th century, Kilkea is one of the oldest habitable castles in Ireland, so would-be travelers shouldn't be afraid to share their room with a smattering of ghosts — there's even an abandoned graveyard on the estate. Kilkea also offers entertainment for the living as well, including falconry, horseback riding, archery, and golf. Step back in time and live like a queen (or at least a lady) for the weekend.
WHAT TO DO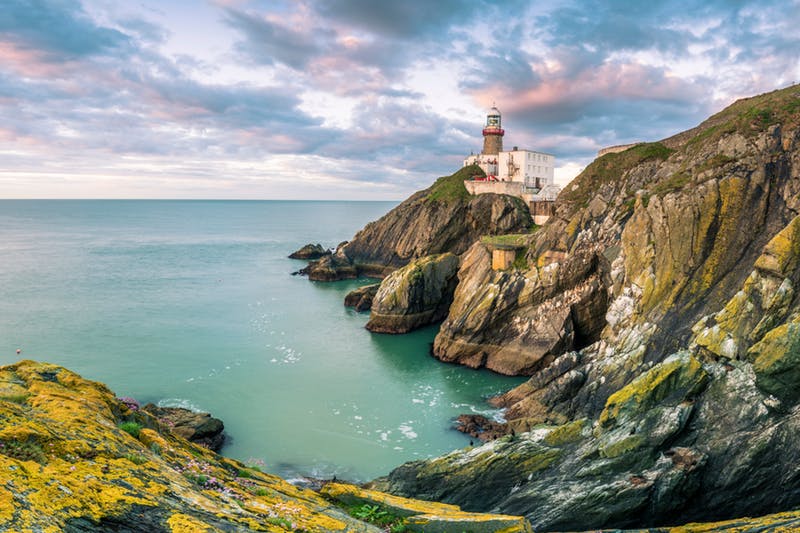 Wake up early to catch a bus or train to the Baily Lighthouse in Howth for an unforgettable panoramic view of the cliff and the lighthouse at sunrise. Not that you would be able to forget, anyway, since the moment will undoubtedly be preserved forever on your Instagram feed. The picturesque lighthouse rivals Great Point on Nantucket (only with more dramatic terrain) and is well worth the 80+ minutes on public transport from Dublin. Another equally Instagram-worthy (and exceedingly educational) activity is a tour of Dublin Castle. Built in 1204, the castle was the seat of British rule in Ireland until the Irish War of Independence ended in 1922 with the creation of the Irish Free State. Ask to have a photo taken of yourself in front of the castle's gorgeous, color-block exterior, painted in shades of blue, red, green and yellow.
Visit Trinity College (which looks a bit like Hogwarts, for you Harry Potter fanatics), and sign up for its Book of Kells Tour to learn more about the world's most famous medieval manuscript. This ninth-century tome is known as Ireland's greatest cultural treasure, though we'd add the historic Abbey Theatre (the old stomping grounds of poet W.B. Yeats) to the list as well. Have a cup of tea at Bewley's, established in 1840, before hitting up the shops on Grafton Street. The Irish are renowned storytellers, and you'll experience this firsthand listening to the craic (or "crack," an Irish term for witty gossip and chatter) on the streets of Dublin. There's even a walking tour focused exclusively on the subject: the Dublin Craic Tour.
Visit some of Dublin's many art galleries — IMMA (the Irish Museum of Modern Art) is especially worth a visit, as is the National Gallery of Ireland, located in the heart of Georgian Dublin — or just enjoy the street art along the city sidewalks. Other museums to check out include the Kilmainham Gaol Museum (about the history of Irish independence and political prisoners) and the Irish Whisky Museum (interactive, very fun).
Speaking of interactive, did you really visit Dublin if you didn't stop by the Guinness Factory for a tour and a pint? Enjoy the panoramic views from the top-floor bar as you enjoy a tour-finale pint included with the entrance fee. Warning: One glass can feel as hearty as Thanksgiving dinner, so consider eating a light lunch beforehand.
Head out to Phoenix Park for a curated glimpse of some of the country's greenery, or for the real thing book a full-day guided tour from Dublin to Glendalough and Wicklow with Wild Wicklow Tours. (This excursion was ranked as the #1 experience in Ireland and #10 in the world by TripAdvisor earlier this year.) You can also experience Ireland's legendarily lush countryside by renting a car for day trips outside the city, where you'll witness greenery of folkloric proportions (we're referring to shamrocks and leprechauns, of course). Stop in any nondescript pub in any small village along the way for a pint of Guinness — yes, it does taste different there.
WHERE TO EAT & DRINK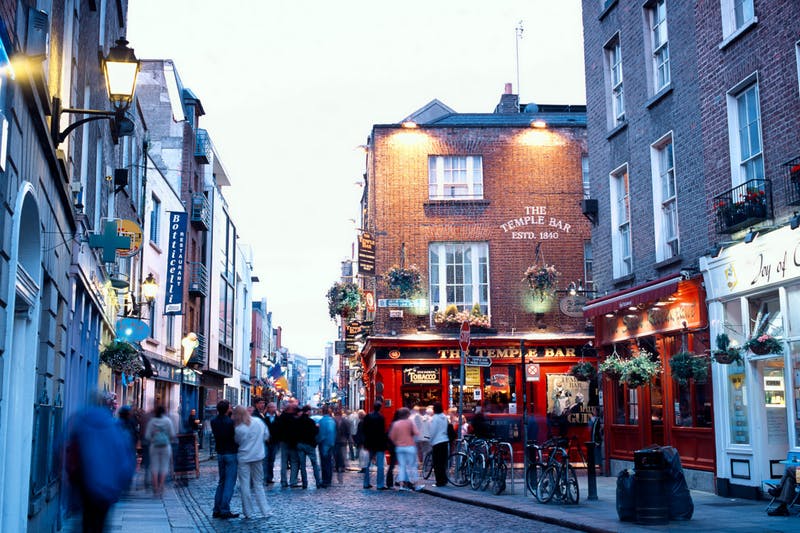 Head to the River Liffey to pay a visit to landmark Dublin institution The Winding Stair. This quintessentially Irish restaurant is named after a Yeats poem and located above (you guessed it) a bookstore. (We told you the Irish love their writers.) The aptly named Meet Me in the Morning is a go-to spot for brunch. We highly recommend Pichet for dinner: This restaurant and cocktail bar has delicious food and an even more excellent wine list.
Order "blaa" (sandwiches on rolls ) for lunch at the Irish kitchen Hatch & Sons. This cute cafe has two locations, in The Little Museum of Dublin and Dublin City Gallery, so you can educate yourself before or after your meal. Head to the Gallagher's Boxty House for their signature boxty (imagine potato crepes stuffed with meat). Though located in a touristy area, the tagline makes the crowds worth it: "The Humble Spud Made Beautiful."
Though it may be popular with tourists, the Temple Bar neighborhood remains a cultural center in Dublin and is definitely worth a visit for any traveler. You'll want to start off at The Temple Bar (pictured above), established in 1840. Most Dubliners have a bar or pub that they think has the best pint of Guinness in the world, so we suggest asking someone at the bar their opinion on pubs to visit, and then taking them up on their recommendations (all night long, if possible).
For a daytime drinking scene that's more than a little reminiscent of Brooklyn, enjoy the DJ sets, exhibitions, cocktails, and street food at The Bernard Shaw. Head to L. Mulligan Grocer for fresh Irish produce and an impressive selection of whiskeys: The gastropub is located in Stoneybatter, an area of Dublin that remains less touristy than Temple Bar but where plenty of people still go out.
The pubs here are endless, so the game ends only when you fall asleep. We're partial to Grogan's Castle Lounge (one of the best pubs in Dublin for people-watching), The Brazen Head (Ireland's oldest pub, established 1198) and Mulligan's (an 18th-century pub with a lively crowd, known as "the home of the pint"). Irish pubs may now be popular all over the United States, but trust us when we say: They're even better in Dublin. Again, it's just the luck of the Irish.
---