American couple restore Kilkea Castle to former glory
---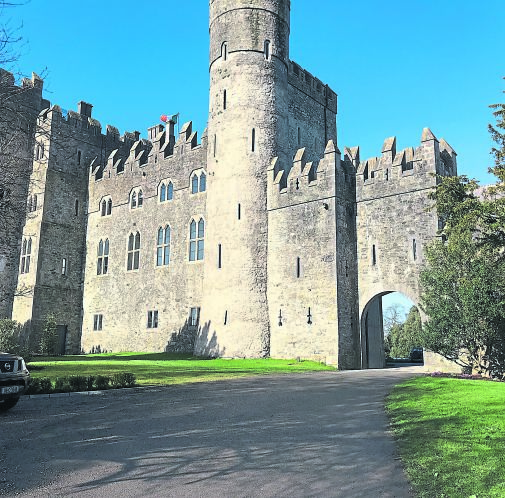 Spending time at the newly refurbished Kilkea castle outside Athy is like looking through a window to the past.
Time moves slower there, and good luck if you want a phone signal because you might just have to learn to amuse yourself — or better yet, talk to people around you, in my case the two American tourists who have just spent their first night in an Irish castle.
I am here to talk with American actress Christy Scott Cashman. She is married to Jay, and together they have two teenage sons Jay Michael and Quinn. They also happen to own the place.
"Jay came castle shopping about five years ago. He went into the real estate agent and said he would like a castle. The agent said to him 'what do you want a castle for? You'll do well in a cottage, you can have all you need in a nice little cottage'. I even thought Jay was joking."
"Jay and I were married in Adare in 1999," explains Christy. "But it was horses that first brought me to Ireland in 1991. Since I married Jay (who is a successful contractor currently working on a building project in Haiti), I have seen the world and this is where I end up. Jay started working for himself at 16 years old, boarding up summer houses in the Cape, and it just progressed from there. Now he builds bridges and tunnels and he has expanded into renewable energy and wind farms. He says he can now cover his carbon footprint."
Coinciding with my visit, some new furniture has arrived from Boston and Christy, who has spent the past five days leading a horseback tour of the countryside, is thinking about where to put it. "This places just swallows things up — you think you have a lot but when you see it here it is just so big.
"This is my first trip over with a group doing an equestrian trip —I'm going to start putting packages together. Yesterday we saw Tara and the Loughcrew Passage, it was unbelievable."
Kilkea Castle dates back to 1180 and was home to the Fitzgerald family for over 800 years before changing hands. Now it has three restaurants, a pub called 'The Keep', a golf course, a walled Victorian garden and even a small beach area known as such because it leads down the Griese River where guests can swim and tube in the summer. It can accommodate 350 people in a combination of lodge houses, gate houses and, for a select few, the castle itself. "We 've had the property for five years but started the renovations three years ago. We spent our first Christmas here two years ago. It is a special place."
Christy says she feels a special connection to one former resident of the castle, Hermoine Fitzgerald, and even knows her great-greatgranddaughter, also called Hermoine, who stays at the castle when she visits from Australia. "For some strange reason I feel like I have a connection to her. Hermoine used to keep a journal and I've read some of it —she wasn't that happy in life but she was happy when she lived here.
"It's sort of overwhelming to feel that we own it. I guess it's like we are passing through and we are part of its story for awhile. I also like to think that we have made a difference."
The interior of the castle she has styled a little like the Gramercy Park Hotel in New York. "I like the mix of old and new. We have 200 acres and what sets us apart here is that there is very little development around us. When you go to a castle you want to feel transcended — you want to switch off the moment you come through the gate. You can imagine what these walls have seen and you can be a part of it for awhile. We had to work with a historical architect during the refurbishment and there were certain walls, dating back to the 11th century that we could not touch."
The castle has been a labour of love for the family. "Obviously our hopes are that it will be a viable business venture—so far it has been a labour of love. We 're are lucky that we are able to do this and not to have to rely on it as our sole income." Christy, who has worked in TV and acting, including a cameo role with John Travolta in The Forger, now enjoys writing and horse riding. She admits she can see herself living in Kildare full time and leaving their home in Boston.
"Certainly when the boys go to college, they might go here in Ireland," she said.
Taking a tour of the grounds, she points out a 300 year old wisteria still growing, and apple trees that date back to 1850. The resident graveyard is a fountain of information for any would-be historians. Groundsman Matt Kirwan, who is a Kildare man has been working at the castle for the past 29 years, "I am enjoying watching it coming back to life since it was in receivership. The banks kept me on during that time and the hardest part was coming to work and having no body to talk to. It was over grown and in bad shape —the money just wasn't there but we're back in a good place now and it's better than ever," he said.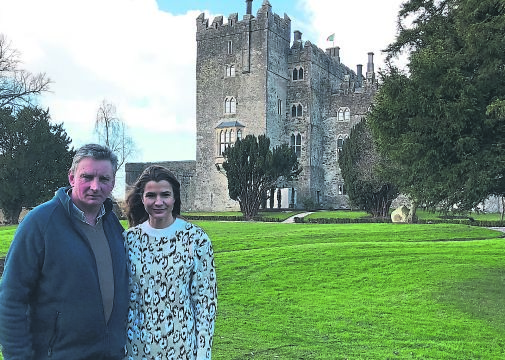 A gargoyle at the back entrance of the castle beckons. It shows a man in the throes of bestiality with a wolf dog. "That was to warn strangers of what could be going on inside," Christy explained. "It was a way making dangerous strangers think twice before they entered." Thankfully, strangers are welcome here once more.
---